ROOF RIDGE CAP ROLL FORMING MACHINE
A Roof Ridge Cap Roll Forming Machine is for producing Roof Ridge Caps for Steel Building System. ZT machinery have several designs of roll forming machines for caps. Here are several ridge cap drawing profile for your reference:
Introduction of Roof Ridge Cap Roll Forming Machine:
What is the roof ridge function, where is used for ?
As the name shows ridge of a sloped roof system is the highest horizontal top area where the two roof sheets meet. Because ridge cap shingles cover the peak of the roof, where two angles meet, they play a critical role in keeping rain and thawed snow from leaking into the house. And because ridge cap shingles are bent over the roof, they can deteriorate quicker than the rest of the roof surface. Maybe checking from the following pictures then we can understand better:
There are different roof ridge cap roll forming machines based on different demands of the steel roofing systems. Most of all, there are 3 kinds of roof ridge cap machines in the market. Roof Tile Ridge Caps, Metal Roof Ridge Caps, V Shape Caps. And the V shape ridge caps sometimes used as a roof valley f lashings.
ROOF RIDGE CAP ROLL FORMING MACHINE
Machine Components;
same like other rolling forming machine, this one is also composed by Strips Uncoiler, roof ridge cap roll former with drive system and shearing system. Punching and stepping system, PLC system, and hydraulic station. Here is another ridge cap rolling forming machine pictures for your reference:
Product Process of Roof Ridge Cap Roll Forming Machine
Uncoiling– Feeding– Roll Forming– Straightening– Cutting– Collecting
Brief Specifications of ridge cap machine
Uncoiler Capacity and Types: 3 Ton -5 Ton, Electric or Manual
Suitable Coil Strips: 0.25-0.6mm thickness, 300*800 mm width. I.D 508-610mm, O.D: 1000mm
Forming Rollers: 14-20, subject to final design
Rollers Material: ASTM 1045, Quenched and tempered. Chromed 0.05mm thickness
Shaft Material: ASTM 1045, hardness treatment
Motor Power: 5.5KW
Driven Method: Gear box or Chain& Gear
Cutoff De Material: CR12, heat treatment
Controlled System: Panasonic or Siemens PLC, Yaskawa Inverter, Omron Encoder, Omron Limit Switch
Voltage: 308-440V, 50-60HZ, 3 Phase
Here by the finished product, let us check the machine quality.
For the profile to see the length accuracy.
To check the stamping part at the same line or not.
To check the stamping part and rolling part if there is any damage part or not .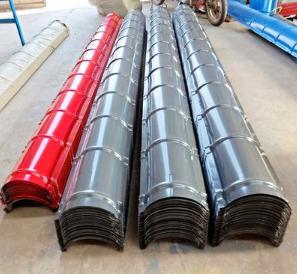 If you want to know more information, please contact us at any time.